Strona internetowa turnieju
Profil turnieju na oficjalnej stronie ATP
Nazwa turnieju: Barclays ATP World Tour Finals
Miejsce rozgrywania turnieju: Londyn, Wielka Brytania
Czas rozgrywania turnieju: 09.11.2014-16.11.2014
Drabinka: Singiel - 8 osób, Debel - 8 par
Nawierzchnia: Hard
Pula nagród: $ 6,500,000
---
Zwycięzca singla 2013
-
Novak Djoković (SRB)
Zwycięzcy debla 2013
-
David Marrero / Fernando Verdasco (ESP)
Punktacja:

Zwycięzca finału: +500 pkt.
Zwycięzcy półfinałów: +400 pkt.
Wygranie spotkania w fazie grupowej: +200 pkt.
---------------------------------------------------------------------------------------------
Maksymalna możliwa ilość pkt. do zdobycia przez zwycięzcę: 1500
---
ATP World Tour Finals to jeden z tych turniejów, które silnie stanowią o odrębności tenisa od w stosunku do innych dyscyplin. Atmosfera ekskluzywności, oprawa jak z hollywoodzkich superprodukcji, gwiazdy tenisa bardziej gwiazdorskie niż gdziekolwiek indziej. 8 najlepszych tenisistów świata rywalizuje w na intensywnie granatowym korcie słynnej londyńskiej O2 Arena pod obecną banderą od roku 2009, ale same zawody, jako forma sfinalizowania sezonu zasadniczego ATP Tour, odbywały się już prawie 30 lat wcześniej. Lista zwycięzców jedynie podkreśla elitarny charakter imprezy: wielokrotnie wygrywali ją m.in. Sampras, Djokovic, Borg, McEnroe, Becker, rekordzistą zaś jest – a jakże – Roger Federer z 6-oma tytułami na koncie. Na liście tej brakuje przede wszystkim Rafaela Nadala, który nigdy nie czuł się pewnie w warunkach halowego tenisa. Zanim turniej nie zadomowił się w Londynie, odwiedzał m.in. takie miasta, jak: Szanghaj, Hanower, Houston czy Lizbona.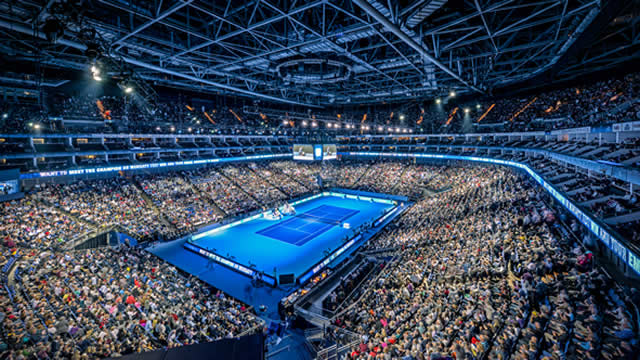 ATP World Tour Finals to, jak każdy z największych turniejów tenisowych, synonim najwyższego poziomu sportowego i ogromnej dawki emocji. A jednak od kilku lat wydaje się, że zawody te – podobnie jak turnieje wielkoszlemowe – znajdują się w pewnym kryzysie. Od czasu znakomitego, pełnego stojących na najwyższym poziomie sportowym widowisk finału sezonu 2009 nie doświadczyliśmy jeszcze żadnego, który by do niego w udany sposób nawiązywał. Przewidywalne rozstrzygnięcia, umiarkowany dramatyzm, nieporażający poziom sportowy. I kolejny dowód na słabość obecnego zaplecza ATP, niebędącego w stanie zmusić najlepszych do wysiłku większego niż jest to niezbędne do rutynowego zwycięstwa w jednym z największych turniejów cyklu.
dailymail.co.uk
Czy tegoroczna edycja może przynieść zmiany? Wydaje się, że tak, choć nie będą to może zmiany rewolucyjne. W turnieju pojawi się trzech debiutantów: systematycznie rozwijający się Kanadyjczyk Milos Raonic, sensacyjny zwycięzca US Open Marin Cilic oraz jego przeciwnik z finału tego turnieju, Japończyk Kei Nishikori. Każdego z nich stać na błyskotliwą grę i niespodzianki w meczach z faworytami. W wykonaniu każdego z nich wciąż jednak trudno wyobrazić sobie zwycięstwo w tegorocznej edycji World Tour Finals. Czy zatem kwestia końcowego tryumfu ponownie rozstrzygnie się pomiędzy niekwestionowanymi dominatorami rzeczonej imprezy w ostatnich latach – Rogerem Federerem i obrońcą tytułu, Novakiem Djokoviciem? Przekonamy się już w nadchodzącym tygodniu.
---
Wątek poświęcony temu eventowi przed rokiem:

klik!