Rusty odznaczony orderem Australii.
Australia Day Honours 2016: Lleyton Hewitt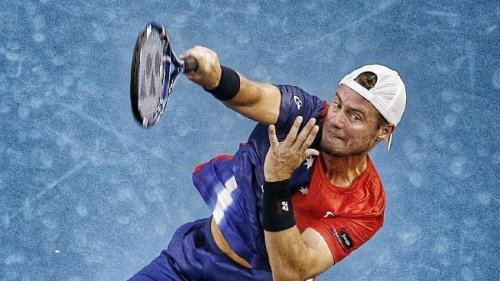 Lleyton Hewitt in action during this year's Australian Open. Picture: Colleen Petch.
INTRODUCED to tennis by his parents Glynn and Cherilyn, Lleyton Hewitt started out in the sport with nothing else in mind than having fun.
Almost 30 years later, the South Australian has retired after scaling international heights, including reaching the world No 1 ranking and snaring two grand slam singles titles.
Hewitt, 34, has been awarded an AM (Member of the Order of Australia) in the Australia Day honours list — and nobody is prouder than the Adelaide baseliner.
"It's great to think that the country would honour me in this manner," Hewitt said at Melbourne Park, site of the Australian Open.
"Wherever I've played around the world, every time I step on the court I've done so as a proud Australian.
"The support I've received from Australians all around the world has been amazing and it's nice to be recognised in this manner."
n a record-breaking career, Hewitt remains the youngest man (20) to become world No 1.
He beat world champion Pete Sampras to claim the 2000 US Open — two days before the 9/11 terrorist attacks.
Seven months later, Hewitt joined the illustrious band of Australians to triumph at Wimbledon.
Succeeded by arch-rival Roger Federer as world No 1, Hewitt is widely credited with changing the way tennis is played.
Federer hailed Hewitt's on two fronts — for being the prodigy who dominated the sport and, secondly, for forcing Federer to become one of the best players tennis has seen.
"Lleyton was such a great player at such a young age, he made me become the tennis player I am today," Federer said of his friend and regular practice partner.
"He has been a great champion."
Hewitt won 30 singles titles, starting with the Australian Hardcourt Championship at Memorial Drive in 1997, and amassed more than $25 million in prizemoney.
He holds virtually every Australian Davis Cup record — most singles wins, most ties played, most years played — and rates donning the green and gold as a career highlight.
"Representing Australia in Davis Cup and the Olympics has been the highlight of my career," Hewitt said.
"This honour is completely unexpected. As a proud Australian, it means a lot."
Married with three children, Hewitt now spends his time between Australia and the Bahamas.
He will captain the Davis Cup team for the first time in March when Australia hosts the US at Kooyong.