Time for James Blake to retire?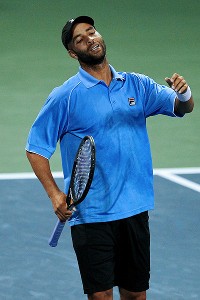 How do you tell a man whose entire career has been about never giving up that it's time to stop?
How do you tell a man who knows nothing except beating the odds, that some odds, these odds, can't be beaten?
How do you tell James Blake, a man who went from wearing a full-length back brace for 18 hours a day, every day for five years to No. 4 player in the world, that his magical ride is over?
That this U.S. Open should be his last?
You can't.
You don't.
All you can do is hope for the best.
Besides, someone as determined -- or stubborn -- as Blake probably wouldn't listen anyway.
After all, I'm sure there were plenty of people who saw how severe his scoliosis was when he was a teenager and told him he probably wouldn't be an elite athlete. And then Blake ignored them and became the No. 1 college player in the country while at Harvard. I'm sure there were plenty of people who told him how rare it was for a college player to make it on tour. And then Blake ignored them and at one point became the highest-ranked American. I'm sure after he broke his neck, contracted shingles and lost his father to cancer all in one year that even Blake wondered how much more he could take. And then the next season he won ATP Comeback Player of the Year, answering his own question.
Blake is often credited with being one of the classiest players on tour but the quality I admired most was his will. It never seems to matter what life throws Blake's way, he always finds a way to get past it, learn from it, grow.
But there comes a time in every athlete's life when the body takes a little longer to recover between matches or is a little slower during matches. And seeing how Blake hasn't won a tournament since 2007, hasn't even won three singles tour matches in a row since 2009 and is staring at 32, his inner strength no longer matters. When your knees give out, will and determination are sidekicks to wear and tear, and no matter how hard you train or how focused you are, there's no outworking time. In team sports you can mask losing a step. In an individual sport like tennis, that's just blood in the water. For the better part of two years, Blake's been getting eaten up.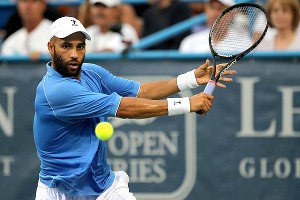 "Retirement is one of the more difficult times in an athlete's career," said former pro Brian Vahaly, whose career was stopped short because of a shoulder injury. "Ever since we can remember we have been focused on tennis and ways to push your body and mind to a higher level. Then all of a sudden it's gone -- and that transition affects everyone in very different, extreme ways.
"Fortunately for James, he's a very educated person who I think will handle this with class as there is more to him than just tennis."
But former pro Justin Gimelstob said Blake is not thinking about life after tennis yet.
"I knew I was playing on borrowed time so my last year on tour I was thinking about the next step in my life," said Gimelstob, who endured 29 cortisone shots and back surgery before finally saying goodbye to the sport. "James isn't talking like he's preparing for anything other than tennis.
"No doubt retirement is in his conscience -- at this stage in his career it has to be -- but I don't know if he's ready to walk away yet. Only he knows."
Gimelstob, who spent significant time with Blake this week for his show on the Tennis Channel, said he believes on any given day Blake still has enough to beat anyone outside of the top four players. He also said that even in some of Blake's losses, he's played some extremely good tennis.
The question is can he sustain that level of play two or three matches in a row. And sadly for the past three seasons, that answer has been no.
He won $1 million in 2008, $567K in 2009, $265K in 2010, and he passed the $100K mark for this season just last week. Even when he was a speedy top-10 player five years ago, he only made it as far as the quarterfinals in Grand Slam play and was getting bagled by Roger Federer. It's hard to imagine at this point a slightly slower Blake doing any significant damage outside of the challenger events he's played this season.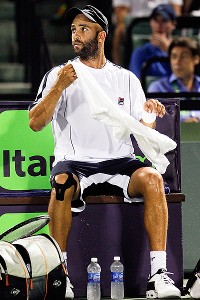 Seeing how he was born in the state of New York and that his interest in tennis was sparked by seeing Arthur Ashe speak at an event in Harlem, the U.S. Open would be the perfect place for Blake to call it a career. I'm sure it's hard for a competitor like him to keep losing in the early rounds the way that he has. And I know it is really hard to watch.
In many ways, Blake's unlikely story is as American as "The Star Spangled Banner" -- a scrawny kid climbing up the rough side of the mountain in hopes of being something few honestly thought he could be, great.
One of my favorite moments watching him live was in 2005 when he dismantled then-No. 2 Rafael Nadal in Flushing Meadows. That summer he was just beginning to come into his own and that win was probably his biggest to date.
Now I'm just hoping he can win three in a row, regardless of the opponents, regardless of the tournament.
I guess that's what age does to our athletic gods, knocks them back down to earth ... whether they acknowledge it or not.
But how do you tell a man like Blake that he is no longer flying high?
I guess in the end, you don't.
The U.S. Open is starting and you just hope for the best.
Besides, there's no evidence he would listen anyway.
If Blake was into listening to the people around him, he probably wouldn't have gotten off the ground in the first place.
LZ Granderson is a senior writer for ESPN The Magazine and a regular contributor to ESPN.com. He can be reached at lzgranderson@yahoo.com.